Child Safety Monitoring Security System Video
Peace of Mind!
From your iPhone, Smartphone, computer or tablet you can monitor your home. In real time you can watch your children walk safely into your home, check on your pets and check up on your home.
View recorded clips to catch up on what you missed
Schedule recordings when there is motion, a door opens or the alarm goes off
Get video alerts instantly sent to you via text or email
Stay protected with tamper proof, off site video storage
Remotely move the Pan/Tilt camera via the web, Smartphone or tablet to see different views of a location
See what's going on both inside and outside your property, all on a single screen
HD quality and great lowlight performance make for crystal clear video
Simultaneously view multiple locations on the same screen, such as your vacation home and primary residence
Integrate existing video cameras with your Alarm.com security system
Alarm.com video cameras work around the clock, hand-in-hand with your security system. So in the event of an alarm, the cameras can immediately upload pre-alarm and post-alarm video footage at your home or business. You can also set up text or email alerts with video clip attachments to notify you when your cameras record motion activity, day or night.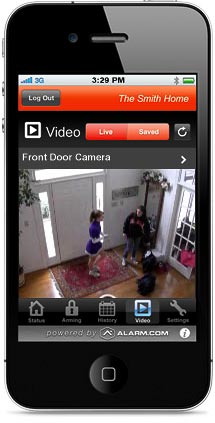 Moore Associates Security Systems

View our Full Website
email:
info@DialOneMoore.com
PH
800-542-4030
©2015 Moore Associates Security Systems
PO Box 267, Chino Hills, CA 91709-0009
Each DIAL ONE Company is independently owned and operated.